The Guide To Moving To Irving TX
Is Irving TX the next place to call home? One of Texas's economic powerhouses, Irving TX stays true to their vibrant history and provides ideal opportunities to move to the area. If you are considering a move to the Dallas Fort Worth area, learn more about moving to the nearby cities like Irving TX.
Living in Irving TX
Try a new restaurant or listen to new music, entertainment is in high demand in Irving TX. Ranked as the 4th largest metro region in the US and 14th most diverse city, Irving TX has relaxation, an exciting nightlife, and a community atmosphere for a growing family. Explore some of the best places to dine, discover, and stay in the area. Our community is ranked in the top 50 best cities to buy a house in America as well as the best cities to raise a family.
Looking for exciting nightlife in Irving TX? The Toyota Music Factory plays host to classic bands and welcomes newcomers to the stage. Entertainment is never at a loss in Irving TX with the Irving Arts Center and Whistlestop Plaza or Gas Monkey Live.

Photo Credit: Visit Irving Texas
Beyond Irving TX: Nearby Neighborhoods
Fort Worth TX
Average Home Value: $141,400
A 30-minute drive from Irving TX, Fort Worth is equally as vibrant as the rest of Texas. With some of the area's best public schools, families can settle down and enjoy life! Fort Worth is ranked in the top 20 list for Best Places to Live in Tarrant County. 
Must See in Fort Worth TX
Considered to be where the west begins, the city of cowboys and culture does not disappoint with unique food and entertainment. Sundance Square Downtown has over 92 stores and restaurants all within the 10-mile radius of downtown. The kids will love the Urban Air Adventure Park where they can try their hand at the American Ninja style warrior course. Tour the Fort Worth Water Gardens or Fort Worth Zoo.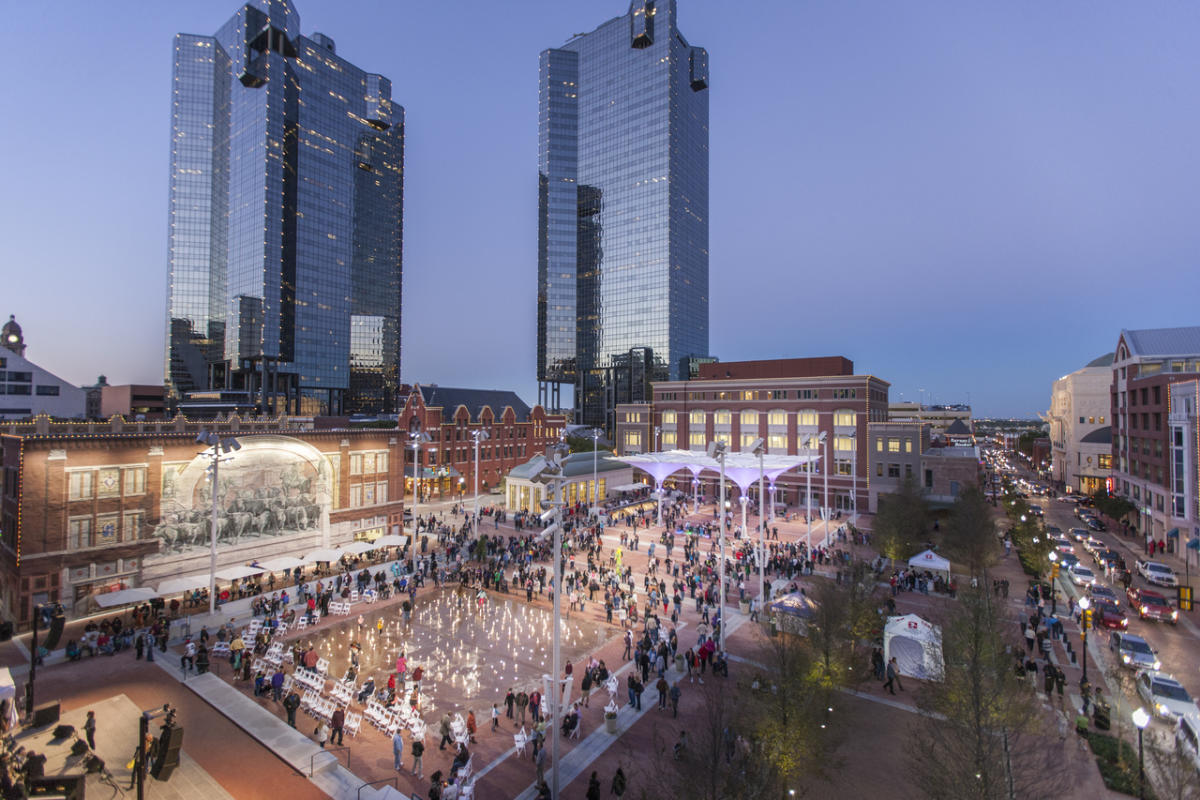 Photo Credit: Visit Fort Worth 
Dallas TX
Average Home Value: $154,000
The rapidly growing city never stops, with an abundance of job opportunities and affordable living options, Dallas TX can be home. Find your happy mix between the hustle of city life and the laid back feel of the country with Dallas TX. Only 20 minutes from Irving TX, Dallas provides a great atmosphere for aspiring professionals.
Most known for their arts district, Dallas continues to amaze the artistic world and visitors with changing exhibits in Perot Museum of Nature and Science and the Dallas Museum of Art (DMA). 
Must See in Dallas TX
Sit down in a coffee shop in the Bishop Arts District or walk the Dallas Zoo, the day is never dull in the Lone Star State. Find some of the city's best places to eat and treat yourself to a Dallas classic with the Margarita Mile. The Sixth Floor Museum gives you an overlooking view of the city while learning about historic moments from our town's past.
Plano TX
Average Home Value: $271,300
Number 4 on the Best Cities to Buy a House in America, Plano TX strives as one of the best places to live in TX. This suburban area is marked in the top 10 for the best city to live in and the best city to raise your family.
Must See in Plano TX
Explore Plano's vibrant shopping district at Legacy West or Shops at Willow Bend, where you will find the nation's best food hall with over 22 chefs. Kids will have fun at Oak Point Park and Nature Reserve. The Arts District of Plano is a historic setting with a modern urban dining atmosphere.
Self Storage Near You
If you plan on moving to the Dallas/Fort Worth area, our storage space may be helpful. Storage Sense offers storage facilities in the heart of Fort Worth, Irving, and Plano. We have multiple locations throughout Texas. Your belongings will be safely stored with us while you explore your new home. Talk with our storage professionals about storing valuables and moving to the metro Texas area.